It doesn't matter if you just discovered the Great British Bake Off, you've been watching Cake Boss since it first aired, or you're just trying to pass off cupcakes for an upcoming bake sale. Perhaps, your only goal is to take your artistic skills in a new and tasty direction. Whatever it is, cake decorating is calling your name.
If you already scrolled through some tutorials or attempted to ice over a crumb coat, you probably noticed that even the most basic cake-decorating techniques require an arsenal of specialty tools. Don't worry! We gathered the 10 best cake decorating kits that are sure to elevate your sweet creations. Check them out in the section below!
Best Cake Decorating Kit Comparison 2023
Best Cake Decorating Kit Reviews 2023
Wilton Ultimate Cake Decorating Tools Set – Best Cake Decorating Kit
Sale
Topping off our list is this comprehensive cake decorating set by Wilton. The set is pricey, but it comes with everything a chef needs to be able to produce blue ribbon-worthy baked goods. All of the tools come in an easy-to-clean blue and white caddy. The organizer has four semi-opaque drawers and two open compartments. Plus, there are slots on the sides for mini cake-decorating spatulas. We aren't looking to preach, but kitchen organization is essential!
You get four spatulas, including two angled selections and two straight selections. There are a total of 18 decorating tips, six silicone tip covers, a silicone tip tray, a tip brush, and a practice board with a stand and patterns. Wilton also sets you up with a hefty supply of disposable decorating bags and bag ties.
With this set on your side, you should have no trouble mastering your buttercream, fondant, and gum paste decorating techniques. The ensemble comes with a whopping 263 accessories. We're not going to bother naming them all.
We admit that such an extensive arsenal of decorating tools could be overwhelming to a cake-decorating newbie. If you're looking to ice a few birthday cakes, scroll along until you come across one of our more modest selections. If your bedroom walls are covered with pictures of Bartolo "Buddy" Valastro (he's the guy from Cake Boss, The Next Great Baker, and Buddy's Bakery Rescue) and Duff Goldman (Ace of Cakes), this might be the set for you.
Pros
Comes with a whopping 263 accessories (lots of fun and unexpected baking and decorating pieces to play around with)
The blue and white plastic caddy will definitely help you stay on top of all of those little pieces
18 different decorating tips
Comes with fondant cut-outs, impression mats, and decorating brushes
Icing comes, with flat-edged spatulas, and angled spatulas
Cons
Some reports of shipping mishaps (mostly pieces broken off the plastic caddy)
Pricey and extensive (the sheer magnitude of accessories in the set could prove to become a nuisance to first-time cake decorators)
Kootek Cake Decorating Kit Supplies – Best for Round Cakes
Sale
Kootek 71PCs Cake Decorating Supplies Kit, Cake Decorating Set with Cake Turntable, 12 Numbered Icing Piping Tips, 2 Spatulas, 3 Icing Comb Scraper, 50+2 Piping Bags, and 1 Coupler for Baking
All-in-One Cake Decorating Supplies Kit: Are you ready to start baking but wondering what tools you need? Don't worry; we've covered you with complete baking supplies that will have you baking in no time! Non-Slip 11 Inch Cake Turntable, 12 Numbered Nozzle Tips, 50 Disposable & 2 Reusable Pastry Bags, Angled Offset & Straight Icing Spatula, 3 Cake Scrapers, and 1 Coupler.
360° Spinning Cake Turntable: The cake turntable has an 11-inch diameter and 3-inch height and spins smoothly on a hidden ball bearing, making it easy to achieve stunningly consistent patterns and gorgeous designs. With 360º clockwise and counterclockwise spinning, you can decorate cakes like the pros.
This lovely cake-decorating kit is perfect for aspiring bakers. It comes with a plastic cake turntable, various icing smoothers, a spatula, and a 12-inch reusable piping bag. You also get an icing coupler and a dozen stainless steel decorating tips. The included cake leveler is an exceptionally well-made and usual tool. If you're a newbie baker who's always pulling lopsided treats out of the oven, this could be the game-changer that you've been looking for.
We love that all of the pieces in this kit are made from either stainless steel or silicone. The items are strong enough to withstand extensive use. You can trim a cake to your desired height, smooth out a layer of base frosting, or add beautiful borders and details.
The turntable can hold any cake with an 11-inch or smaller diameter. Since it turns both clockwise and counterclockwise, it's perfectly suitable for left- and right-handed individuals. Overall, this is an incredibly convenient cake decorating station for anyone that does a lot of icing smoothing or border work.
You get all the essentials in this elegant cake-baking set. Toss a killer recipe book into your shopping cart, and this set is suddenly the perfect gift. If you enjoy layered cake, this is the pick for you!
Pros
12 stainless steel decorating tips with easy-to-read numbered markings
A plastic cake turntable that turns in both directions (suitable for both left- and right-handed individuals)
Includes several silicone frosting combs, two stainless steel spatulas, and a smoother
An easy-to-clean silicone piping bag with several plastic couplings (these allow you to snap tips on and off without having to mess around with the frosting)
Comes with a super handy cake leveler (helps you achieve professional-grade results)
This kit is perfect for layer cake enthusiasts.
Cons
The wire on the cake leveler tends to come loose.
The Unruly Bear Beginner Cake Decorating Set – Best Cake Decorating Set
KOSBON Cake Decorating Supplies Cake Decorating Kits 567 PCS Baking Set with Springform Cake Pans Set,Cake Rotating Turntable,Cake Decorating Tools, Cake Baking Supplies for Beginners and Cake Lovers
[567 PCS CAKE SET] –Including everything you need to start making cakes like a PRO! Cake Decorating turntable, 3 PCS Leakproof Cake Pans.cake levler,chocolate mold,flour flag,Egg Beaters,Muffin Cup Molds, Paper CupCakes,Carved Pens, Icing tips, Disposable Bags, flags,Russian tips,Scrapper Sets,Silicone Bags,Russian Tricoupers, Ciong Coupers,Cream Scraper,Straigh&Angled Spatula,Cake Server,Cake knife,Cake Smoother,Cake Board,baking papers.Flower Nail&Lifter, Brush,50 Muffin Cups,50 plags, chart
[High Quality Food-grade Safety Materials] – All the cake kits meet US Food-Grade standards, made of high quality food-grade 304 Stainless Steel, silicone and plastic. Sturdy and Reusable, safe for family cake making. It's good cake decoration kits for you to make Cheese Cakes, Pound Cakes, Chiffon Cakes, Fondant Cakes.
Next, we have another fabulous entry-level cake decorating set. It comes with 30 pieces, including a slip-resistant cake turntable and several essential cake-decorating tools. The set comes with just about everything a beginner cake decorator needs to create original cakes, cupcakes, and baked goods.
You can clip your preferred icing tip onto the decorating pen to parse out pleasant messages. There are enough tips, bags, spatulas, and smoothers for you to make an endless assortment of original baked creations. The tools and accessories are constructed of durable, long-lasting materials, including silicone and stainless steel. It's worth mentioning that the turntable rotates both ways for easier spreading and smoothing. However, you can also lock it in place whenever you need to work on more concentrated detail work.
Great British Bake Off, here you come! This inexpensive yet comprehensive decorating set is small yet mighty!
Pros
Comes with a moving turntable that rotates both ways and can be locked in place for easier flower and petal applications
A decent collection of beginner cake-decorating tools and accessories
Comes with a set of four Russian icing tips and an ergonomic icing pen, should you want to add a pleasant and refined message to your next sweet treat
Four durable plastic smoothers and two stainless steel spatulas for easier spreading
The perfect gift for a cake-loving child, teen, or adult
Elegant blue and white design pairs well with just about every kitchen aesthetic
Practice patterns and instructional charts will help you become a more talented pastry chef
Cons
The decorating tips do not boast universal number markings.
RFAQK 203-Piece Cake Decorating Set – Best Upgrade Option
Sale
RFAQK 35PCs Cake Turntable and Leveler-Rotating Cake Stand with Non Slip pad-7 Icing Tips and 20 Bags- Straight & Offset Spatula-3 Scraper Set -EBook-Cake Decorating Supplies Kit -Baking Tools
COMPLETE CAKE DECORATING TOOLS: ONLY cake tools set including everything you need to start decorating Cakes like a PRO, 11 Inch Cake Turntable for decorating, 7 Icing Tips, 11 Inch Straight and Angled Icing Spatula, cake leveler & Slicer, 20 Disposable Bags, 3 Cake Scrapers Icing Smoother Set, EBOOK User Guide for beginners.
SMOOTH REVOLVING TURNTABLE WITH NON SLIP BASE: Cake Decorating Turntable is made from non-sticky, non-toxic & dishwasher safe plastic. It rotates smoothly with hidden ball bearings on both clock & anti clock wise directions, good for both Right & Left handers. Non-skid silicone ring is present at the bottom of turntable which provides an excellent stability on countertops, preventing cake rotating turntable sliding from workspace. Ideal for beginners as well as for professionals.
You'd be hard-pressed to find a cake decorating set as extensive as this one. You get a rotatable turntable, a cake leveler, and two stainless steel spatulas. As you might imagine, you can recreate just about any cake design when you have close to 50 numbered icing tips in your decorating arsenal. There are scrapers for spreading and smoothers for smoothing. Your cakes' are going to look so good. As if that's not enough, you also get multiple frosting bags, couplers, and petal producers.
The experts at RFAQK seem to understand that cake decorating is only one piece of the puzzle. As a result, they've thrown in measuring cups, a whisker, and a whole bunch of other usual baking tools. Don't fret if fondant or even gum paste is your preferred cake decorating material. The set includes rollers, spatulas, and presses that can be used with just about every type of frosting.
This is set will enable you to bulk up your baking and decorating arsenals. It's a kit that promises you lots of bang for your buck. These accessories are durable enough to withstand the pressures of even the most intense commercial kitchen scenarios. With that said, we do advise that you invest in some sort of storage solution. Otherwise, this extensive collection is sure to turn into an unbearable heap of junk drawer clutter. Of course, the collection's lack of storage is an easy-to-resolve issue. This minor setback should not deter you from purchasing this otherwise spectacular collection of decorating tools.
Pros
Comes with 203 pieces, including dozens of decorating tips
A rotating turntable makes it much easier to lock in the crumb layer (suitable for both right- and left-handed individuals)
Comes with several fondant smoothing tools and molds
Decorating pen, silicone icing bags, and Russian couplers
Easily prepare cakes for special occasions
All the tools you need to create classic and modern borders, flowers, leaves, and more
The 48 included decorating tips are numbered for easier identification.
Cons
The cardboard box is not a sufficient storage case. You're going to need to invest in a plastic caddy or drawer organizer.
Wilton 46-Piece Cake Decorating Set – Best for Occasional Bakers
Sale
Wilton, 55-Piece Cake Supply Master Decorating Tip Set
The ultimate cake decorating tip set for any cake decorator, all in a convenient plastic organizer case. Set includes: 55 decorating tips 55 decorating tips (Round 1, 2, 2A, 3, 4, 5, 6, 7, 8, 10, 12; Star 4B, 14, 16, 18, 21, 27, 30, 32, 54, 199, 363; Leaf 66, 67, 68, 70, 74, 349, 352, 366; Ruffle 86, 100, 340, 353, 402; Petal 101, 102, 103, 104, 125, 150; Drop Flower 2D, 107, 109, 129, 131, 224; Specialty 2B, 44, 47, 81, 83, 105, 233), plus 2 standard couplers and 2 flower nails (1.25 inch each).
Cake decorating tip set contains an assortment of round, star, petal and leaf tips as well as specialty tips
Perhaps, you are not destined for cake decorating excellence. That does not mean you cannot make the most of your occasional baking feats. This small yet comprehensive cake decorating kit will help you elevate even the most basic of box cake mixes and store-bought icings. It comes with a diverse assortment of decorating tips, including round, star, petal, and leaf selections. You also get a spatula, a coupler, a bag cutter, a storage case, and a variety of disposable decorating bags.
The coupler allows you to rapidly switch between decorating tips. Meanwhile, the plastic container helps you to stay organized. We do wish that the storage box came with dividers. Other than that, we love that this cake decorating set offers convenience and variety. It's inexpensive, accessible, and durable. If anything, it's sure to improve your future birthday cake creations and/or bake sale contributions.
Pros
This 46-piece set is perfect for any beginner or intermediate cake decorator.
Comes with both small and large stainless steel decorating tips
Comes with coupler and bag cutter
A durable plastic storage case makes it easier for you to stay organized
Fully immersible and easy to clean
Cons
The instruction booklet is quite small and difficult to read.
The coupler cannot be paired with the larger decorating tips.
Taiker Cake Decorating Supplies – Everything But the Kitchen Sink
207 Pcs Cake Decorating supplies Kit for Beginners Cake Turntable-100+ Piping Bags-Russian Piping Tips-Icing Spatula Cake Decorating Tools
WITH 207PCS MEET ALL YOUR NEES: The ideal set for beginners ✔Non-stick Turntable ✔24 Numbered Piping Tips ✔ 4 Russian piping tips ✔ 6 Medium Piping Tips ✔ 11 Inch Straight & Angled Spatula ✔ 1 Cake Leveler✔ 3 Cake Scrapers ✔ 3 Piping Tip Coupler ✔1 Silicon Reusable Pastry Bag ✔100 disposable icing bags ✔ 1 decorating pen✔2 flower nail ✔1 Cake Flower Lifter Scissor ✔ 1 cleaning brush ✔ 8 Fondant Tools ✔5 Measuring Spoons ✔ 1 Cake Server✔ 2 Pastry Bag Ties ✔ 1 Silicon Whisk ✔ 40 Paper Cupcake
NON-STICK REVOLVING TURNTABLE: turntable stand revolve smoothly with hidden ball bearings, It revolves clock & anti clock wise, good for both Right & Left handers. Use straight spatula for icing round cakes from sides and angled spatula from Top while rotating turntable. Turntable is made from non-sticky, non-toxic & dishwasher safe plastic. Ideal for beginners as well as for professionals.
Are you building your cake-making tool collection from the bottom up? This 393-piece set comes with all sorts of baking and decorating goods. A three-pack of springform cake pans and the stainless steel cake leveler make multi-tier cakes doable. There are spatulas, whiskers, and silicone utensils galore. The rotating cake turntable is the perfect place to prep round cakes.
The decorating arsenal includes 48 cake decorating tops, seven Russian nozzles, multiple silicone icing bags, a decorating pen, and three smoothers. You can use the molds and double-edged hand tools for chocolate, fondant, or even gum paste.
All of the accessories are constructed of either stainless steel or BPA-free plastic. These tools have not many potential uses. Moreover, there suitable for bakers of all ages and skill levels.
Pros
Comes with three springform cake molds (nonstick liner for easier food releases)
Slice and level batter-based cakes with the steel leveler
Use the flower nail, petal tips, and lifter to make and apply beautiful icing roses
Food-grade, BPA-free silicone scrapers, and smoothers
Multiple stainless steel spatulas for even more precise frosting applications
Too many baking and decorating accessories to name!
Cons
You are going to need some sort of slotted storage container if you plan to keep these accessories well-organized
The springform pans have a tendency to leak. Use liners or place catch trays under them to avoid messes
AJ Gear Store 210-Piece Cake Decorating Set – Our Favorite Turntable
Sale
You'll have no trouble making your next masterpiece with this extensive cake-decorating kit by your side. It comes with loads of essential accessories as well as a few nonessential yet super fun extras. The aluminum cake stand is a dream to work with. You can level, frost, and decorate cakes of all sizes. It spins in both directions. As such, it's a solid pick for both lefts- and right-handed pastry chefs.
The extensive numbered decorating tip collection also helps this kit to stand out from the competition. You can create lovely borders, floral motifs, swirling patterns, and more. The tips come in a divided tray. The full-color tip chart makes it easier for users to make sound decorating decisions.
It doesn't matter if you are a newbie or a professional pastry chef. This kit gives you everything you need on a budget.
Pros
Comes with a total of 210 accessories
A rotating aluminum cake stand with slip-resistant rubber feet for easier border work and smoothing
Scrapers, smoothers, and spatulas
Flower nails and cutters make frosting rose applications a breeze
Includes 51 numbered tips plus a plastic tray for easy organization
Get everything you need in just one purchase
Excellent value
Cons
While the tip chart is helpful, it's not universal. So don't even think about using it to identify other brands' decorating ends.
Cani Store 180-Piece Cake Decorating Set
Boyun Cake Decorating Kit, 137pcs Cake Decorating Supplies With Cake Turntable For Decorating, Pastry Piping Bag, Russian Piping Tips Baking Tools, Baking Supplies For Beginners
PATTERN CHART AND E-BOOK :This cake decorating is FUN FOR ALL AGES AND SKILL LEVELS,This set having numbered piping tips with Pattern chart. So you don't have to worry about which tips produce what kind of decoration, just have a look on pattern chart where we have provided outcome of each tip to make tip selection,E-Book user guide includes The Cake Decorating supplies four levels,Each step Method of Cake Baking, Leveling & icing cakes, 3 frosting recipes, Step by step guide for using icing
REVOLVING CAKE TURNTABLE :This cake turntable stand revolve smoothly with hidden ball bearings and helps you easily decorate cakes for birthdays, weddings and other events. It revolves clock & anti clock wise, good for both Right & Left handers. Use straight spatula for icing round cakes from sides and angled spatula from Top while rotating turntable. Turntable is made from non-stick & dishwasher safe plastic
If you're a cake lover, you're going to love this overly indulgent 186-piece decorating kit by Cani. It includes 57 numbered decorating tips, an aluminum cake turntable, a steel leveler, and much more. The included e-book and the piping pattern chart proved to be super helpful. We cannot help but notice that this kit also comes with a storage box.
The flower nails and lifters were unexpected treats. If you're fond of making milestone cakes, these tools are a must. With so many tools in your arsenal, you should have no trouble putting the finishing touches on your next baked goods.
Pros
Comes with 57 numbered decorating tips
All materials are made from either stainless steel or food-grade silicone
Use the cake leveler to make highly presentable sweet treats
Perfect for professionals and home cooks alike
The materials are made to last.
Comes with a tip organizer
Cons
The icing scrapers are small.
Nuokim Cake Decorating Kit – Best for Teens
Is your high schooler stuck in a perpetual rabbit hole of cake-decorating videos? Get them off the screen and into the kitchen with this beginner cake-decorating set. They will love making sweet treats for friends' birthdays and other special occasions. The set comes with just the right amount of tools and accessories. As such, it's less likely to overwhelm and sidetrack newbie cake decorators.
The tri-color couplers are super fun! These couplers enable users to attach three different frosting bags to a single decorating tip. Just imagine the colorful creations that you can make with such a device! There are also 16 icing and Russian piping tips in the kit. Plus, you get regular couples, smoothers, reusable and one-time-use piping bags, and a whole bunch of scrapers.
Need a new bonding activity? This set is perfect!
Pros
Fantastic and diverse beginner cake decorating set
Doesn't take up a lot of space
Durable, rust-resistant stainless steel decorating tip collection
Super fun tri-color coupler
Comes with a storage box
Cons
No cake turntable (these make cake decorating so much easier)
Prepworks by Progressive 8-Piece Frosting Bulb Decorating Kit – Best for Kids
Kasmoire 11 Pcs Extra Large Piping Tip Set,Stainless Steel Cake Decorating Icing Tips Nozzles,Professional Pastry Tips for Cupcake, Cookie and Puff
The cake decoration kit includes: Cream icing piping nozzle tip(eclair piping tip) french star,closed star, open star,drop flower,rosettes flower, leaves, round piping tip, grass ,leaf pastry tip and basket weave icing tip, 10 disposable pastry bags, 2 ties,2 coupler, cleaning brush and storage box(27PCS)
Safety and health: made of food grade 304 stainless steel, safe and non-toxic, reusable, and long service life.
If you have a budding baker in the house, be sure to check out this adorable frosting application set by Prepworks. The set includes two frosting bulbs and six piping tips. You can use these brightly colored silicone containers to adore cookies, cakes, and more!
Each frosting bulb holds 3/4 cup of icing. The containers are dishwasher-safe. Tip designs include a closed star, a French tip, a lead, a basket, small circles, and large circles. The bulbs are constructed of heat-resistant silicone. Therefore, they can be placed in the microwave or heated up to 600 degrees.
This last set lets you explore your creative side without having dirty handfuls of tiny tools. If you aren't planning on making a lot of sweet treats, you could always repurpose these bulbs as condiment holders.
Pros
Includes two silicone bulbs and six interchangeable stainless steel tips
Decorate your baked goods with precision and detail
Less clutter, less mess
You can totally repurpose these as condiment dispensers.
Heat-resistant silicone bases can be placed in the microwave
Cons
Not an extensive enough set to pull off complicated or professional-looking cake designs
How to Select the Best Cake Decorating Set
Now that we introduced you to some of our favorite ensemble decorating sets, let's discuss what you need to look for in your next cake-decorating set.
Cake Decorating Essentials
Equip yourself with the right tools, and your baked goods are sure to dazzle!
Piping Tips
There are sorts of icing tips, including road decorating tips, drop flower decorating tips, leaf decorating tips, petal decorating tips, and specialty decorating tips. Within these categories, you'll find dozens of shapes and sizes. Most decorating tips are constructed of metal. Metal tips make for more refined, sharper designs. The stainless steel variety is usually safe to place in the dishwasher.
If you're new to cake decorating, you may find that it is easier to work with a select grouping of tips. Try to select decorating tips that feature universal number markings. This makes it much easier for you to choose the correct decorating tools.
Couplers
Couplers are small plastic pieces that can be fitted with a variety of decorating tips. These accessories are perfect for any cake decorator who enjoys making multiple designs out of the same frosting. Essentially, these little accessories enable you to switch between different tips without having to reload your decorating bags. h
Piping Bags
Some bakers prefer to use disposable icing bags. Meanwhile, others find the reusable alternatives to be more practical. Just be sure to choose a kit that includes your preferred piping bags.
Spatulas, Scrapers, and Smoothers
There is only one legitimate way to create a base layer of frosting, and that method requires spatulas, scrapers, and smoothers. We suggest that you choose a kit with a least one flat spatula, one angled spatula, and a couple of different smoothers.
The tools you use are going to directly impact the look, texture, and taste of your final products. Look for durable tools with slip-resistant handles. Your hands can become quite slick when you are in the middle of a frosting marathon.
Templates and Instructions
The road to buttercream excellence includes lots and lots of practice. If you're just beginning your journey to cake decorating excellence, consider a set with an illustrated decorating guide and templates. Even seasoned cake decorators can benefit from owning a couple of silicone piping practices. Don't even get us started on the importance of flower nails.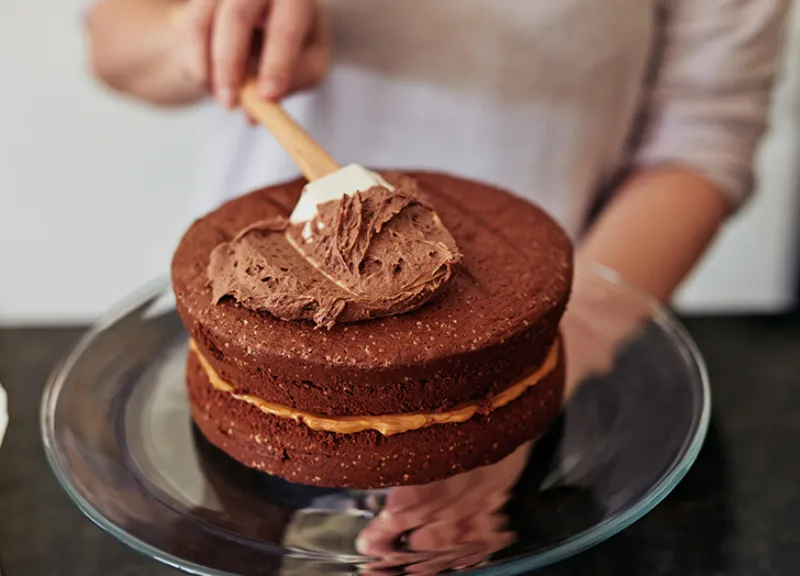 Turntable and Cake Leveler
You're never going to achieve that Instagram-worthy cake without a reliable cake leveler and a rotating cake board. The ideal cake foundation rotates in both directions. However, we also prefer that our cake turntables lock in place. This way, you can spread and smooth your base layer and add meticulously detailed flowers and leaves.
Organization
Some say that chefs are only as good as their tools. However, what happens when your tools are so jumbled that you cannot even find the ones you need? So cake decorating essentials are no larger than the tip of a human thumb. Tossing these tools into a shared kitchen drawer is the same as throwing puzzle pieces into a toy chest.
Durability
We highly recommend that you opt for mostly stainless steel and silicone tools. These materials last longer. Plus, they're less likely to alter the taste or chemical makeup of the frosting you're using. You might pay a little more upfront, but you're far less likely to need replacements.
Wrapping Up
We are confident that cake decorating is never going to go out of style. Whether you're a newbie or a professional, we hope you found some tools that inspired you to take your cake decorating to the next level. If you're in rush, be sure to check out our top selection. Wilton's Ultimate Cake Decorating Set comes with all the essentials and then some. The blue and white caddy will make it easier for you to stay organized and meet your cake-decorating goals. Of course, the Prepworks silicone frosting bulbs are a great selection for anyone who is just looking to put the finishing touches on some ordinary baked goods.

James is the owner of North. After working at Nick's on Broadway, James moved to Red Fez and put his knowledge to the test with hot dog R&D. He assisted in the launch of Momofuku Ko in NYC In 2008. And a year later, James was part of Christina Tosi's team for Momofuku Milk Bar as their bread baker.